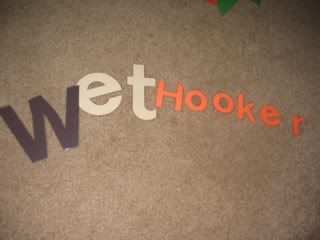 I woke up this morning in a fantastic mood. I was headed down to Fredonia with Amy, and we were going to spend the day kicking around our alma mater and reminiscing.
Actually, we were going to spend the afternoon die-cutting things for her brand new classroom, and then we were going to go drink some wine at Merritt Winery. Tell me that's not the perfect day.
I've said it before. I've always harbored a little jealousy for my friends who were education majors in college. They hunted bargains for school supplies (markers, crayons, glitter, paste, construction paper, googly eyes). They got to use fancy scissors that carved patterns into paper. They made cookies and had parties.
But yesterday I got to stand in Fredonia's Media Center and pretend like I was an education major, like I needed the alphabet cut out in both 2 inch and 4 inch construction paper blocks. We cut out Amy's name, headings for bulletin boards, and shapes like pumpkins, birthday cakes, and the United States.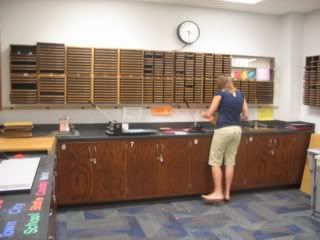 Then there was the laminating. Let's put that on the list of things I'm secretly obsessed with. My father worked in print and design for over twenty-five years, and because of it I love anything having to do with laminating, binding, printing, or shrink wrapping. And yesterday we got to laminate. We laminated a lot.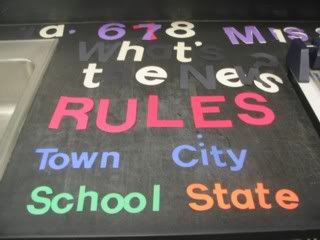 The whole day was excellent. I'd been looking for an excuse to go wander around campus. It was so, so surreal to pull into the parking lot where I used to park every single day. It was surreal to walk into the building where I had all my psychology and history classes. It was surreal to drive around and see all the changes and how beautiful campus looks and how there's now a Starbucks in what used to be the dining hall we hated most.
As we waited for Passion and Green tea iced tea lemonades in the new Starbucks we couldn't stop ourselves from thinking how much we wanted to pack up all our stuff and move back down to Fredonia, park ourselves in an apartment on Temple, toe through wet leaves on the way to our old favorite bars. I couldn't stop thinking things like Oh, there's where Keith and I had that big fight, or there's where I kissed that blond-haired boy Moe's ex-boyfriend was friends with, or there's where we had our annual Fred Fest barbecue, or there's where I used to get my chai every morning, or there's where I would cut into the library for work.
It's a miracle I got back in the car. I wanted to be there. For real. For four more years. I told Amy I was going to re-apply, get another degree, spend another couple years eating Chinese food at the Holy Wong.
I'd like to think I loved college when I was there and that I appreciated it in all the ways you're supposed to, but I still don't think it was enough (is it ever?) and I want to go back. Send me back. Take me back. I want to go back.
I'm sure a lot of this has to do with the fact that this is the first year of my life I am not gearing up to go back to school. Well, in a sense I am, because now I'm
teaching it
, but it's not the same. I'm not flipping through new textbooks and opening fresh white notebooks. I'm not rearranging my bedroom or cooking dinner for the girls in our old Brigham Road apartments.
But what I am doing is spending quality time die-cutting and laminating. Quality time where I get to sit on the floor with Amy and Becky and cut everything out of slick, shining sheets of lamination and rearrange letters on the carpet. I think it was therapeutic to spell out words or phrases that would never, ever, ever make it onto any of Miss Amy's bulletin boards. Wet Hooker. No, Wet Hooker. No Wet Hooker. No Bed, Wet Hooker!
If I can't go back in time or go back to school, I suppose all of this is a close second. A very wet, very hookerish second.