Today I didn't walk into Armstrong Hall. Today I didn't walk down familiar halls and talk with familiar friends. Today I didn't see my favorite professors. Today I didn't look out at the mall and see the fountain and the rest of MSU in all its strange glory.
Today I saw this: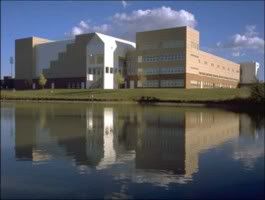 and this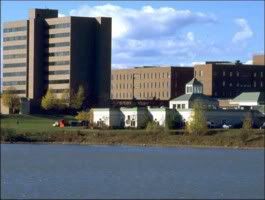 And when I got to my office, I saw this: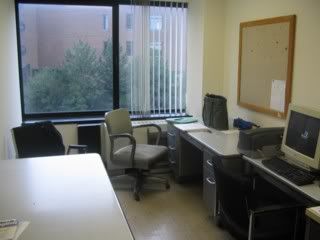 and this: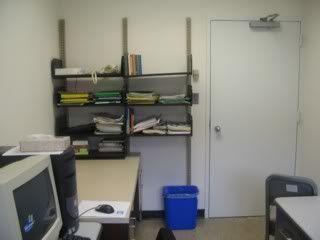 Okay, sure some organizing needs to be done, but I'm a Virgo! That's what Virgos
do
. After all, I am the girl who has color-coded folders that match notebooks that match even (yes, yes, this is true) the background colors of each class's Blackboard site.
But the color coding is good. Everything is good. The whole day went well.
And I'm thankful, because last night I went to bed feeling calm, feeling cool, feeling confident. Then I had five hours of terrifying teaching nightmares.
I dreamt I woke up the next morning and had the sudden whimsical urge to fly off to Florida. "This is a great day!" I said. "Look, here are some airline tickets! I'm going to go to Fort Lauderdale!"
And so I went to Fort Lauderdale. I was sipping on my first pina colada when a weird feeling came over me. I felt like I was supposed to be somewhere. I looked down at my watch and realized I had class in an hour and surely they were going to fire me if I didn't make it back from Fort Lauderdale in time to hand out the syllabi.
The rest of the dream involved me running into massive problems as I tried to get back to New York in time for at least
one
of my classes. Flight delays. Snotty customer service agents. Evil taxi drivers.
When I woke up it was 5 AM. It was pouring outside. I promptly fell back asleep, but then dreamed I was without umbrella and that my hair had exploded into some soft ball of fuzz on my head and that's how I had to go teach my classes.
In reality, I had an umbrella and quelled any urge I might have had to fly off to Fort Lauderdale. In reality, I had a fine day where I smiled and charmed and met all three of my classes. I joked about Minnesota and the temperature and the hotdish and the bland food. I made a reference to
Coach
, which only one person got, and that made me feel sort of old.
Still, it was a fine day, and I'm looking forward to getting into the groove of teaching three classes back to back to back without break for food or sanity. It's going to be fun. On Thursday we are kicking off our personal narrative units. We're going to start brainstorming and talking about great storytelling.
And we all know that's something I will never ever get bored of talking about.