That's what I saw when I rolled into my driveway at 2:20 AM on August 4th. Welcome home
indeed
. I was exhausted. The trip from Minnesota to New York that usually takes around 15 hours took me nearly 20 this last time. I blame Illinois, I blame Chicago, I blame the fact that both the 294 and the 90 are under major construction.
But my father had made a poster and posted it in the garage. He'd put roses on my dresser. He'd printed off a sheet of inspirational quotes--the type that have to do with perseverance and patience and life's little obstacles. My father is a good father.
That night was the first night of my being back home. Back home for more than Christmas or spring break, for more than graduation parties or weddings. I'm back home for at least a year.
That's right. All those hours I logged at my tiny office in Armstrong Hall, all those hours I spent carefully assembling packets filled with my curriculum vitae, my cover letter, my transcripts, my writing--all those hours counted for approximately squat.
I hadn't gotten a job. Academia had snubbed me. Academia had said, "Ha ha, little girl! Go home! Live with your father! Endure another Buffalo winter! Wait tables, for all I care!"
Academia is a poor sport.
Seventy rejections.
Seventy
. Out of that I got one interview, did a bang up job with my teaching demonstration, then didn't get the position which would've paid near $40,000. You know how a girl copes with that? She eats a
lot
of cookies.
So after I packed the contents of my apartment into my little silver car, and after I spent a few days at casa de Clay, where I slept on an air mattress with a dog with really bad breath, that's when I headed home.
The day after the drive I woke up in the afternoon and stared at my ceiling. I had a day full of unpacking in front of me. That didn't thrill me. Although I am very good at it, I hate to pack and unpack. I'd rather live out of boxes until infinity.
So I got up. I gathered garbage bags because there were going to be many, many things I wanted to get rid of. Like my mother and grandmother before me, I am a squirreler. I like to hide random things in drawers because someday, someday, oh someday I might need or want them. And so I started sorting through things. But something was wrong. Something was off.
I was pants-less. In fact, I didn't put pants on for the whole day. I waited until right before my father came home from work. He was taking me to a fish fry, and I didn't think it was proper fish fry etiquette to arrive
sans
pants.
And the next day I didn't put on pants either. I was the worst sort of beaten down. I was so dreading things to come--the unpacking, trying to find a job, waiting tables, the inevitable doom--that I didn't even want to exert effort. Any effort. After all, this was my fate. Living in my father's house and hanging my masters degree on my bedroom wall. Worrying about pants just seemed silly.
My mother called. Since she's currently out of work since the closing of her store, she sounded as beat down as I did.
"I'm not wearing pants," I told her. "This is our life now, you know? Unemployed, pants-less, and watching daytime television."
Still, I was going to a concert that night. Lowest of the Low was playing on the banks of the Erie Canal in North Tonawanda, and a girl who loves Lowest of the Low as much as I do couldn't miss out on that, even if it meant she had to put on some pants.
And so my official welcoming home kicked off. I was herded into a car with my girls and we headed for the north towns. We had dinner across from the Niagara River at one of the delicious hot dog stands that dot the shore. Like reasonable people, we all had hot dogs. All of us except for Steph.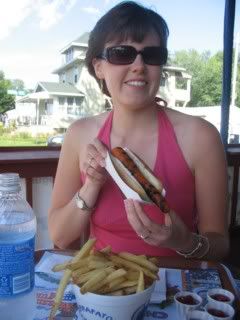 That might look like a hot dog, but it's not. It's a Bunny Dog. A marinated and grilled carrot. I took the less healthy route and got a Philly-style dog. It came smothered in cheese and caramelized onions. It was beautiful.
After dinner we went to the concert. We drank Canadian beer and walked the canal promenade while we waited for Lowest of the Low to come on. And when they finally did, you could've tried to move me from where I was standing, but you would've seen that I was rooted to the spot.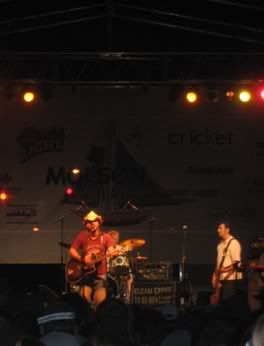 Oh, Lowest of the Low. If only I could somehow get you to live in my room and wake me up every morning by singing "Letter from Bilbao." That would be the life.
Anyway, they played for hours, then did two encores, and you could tell people--especially the tall, muscly guy who stood next to us and pumped his fist in the air at the lyrics about being drunk and wanting to get into fights--wanted them to do two, three, four more. Predictably, I wanted to make out with them. And so did Amy.
Becky just got violent with some of the beach balls that were tossed in the crowd for our amusement. The first fifty times they hit us in the head, it was funny. After that, Becky went at them.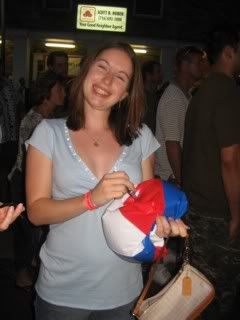 But always with that winning smile.
The next day I was forced to put pants on again, since I had to go to my family reunion. But I put those pants on very happily, and do you want to know why? Because it was my distinct pleasure to be the judge of the family's Brownie Bake-Off.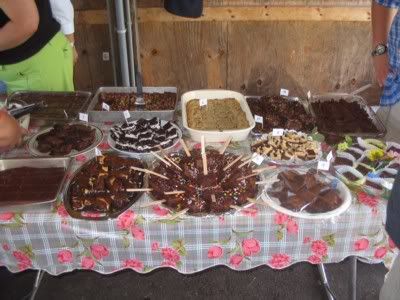 That's right. I ate each one of those. And they were all delicious. My cousin Jeff and I found it difficult to make our choices for the #1, 2, and 3 spots, but in the end I deferred to him because you can't really tell a man he's wrong about the brownies he says are #1. I was just pumped that I got to eat them all.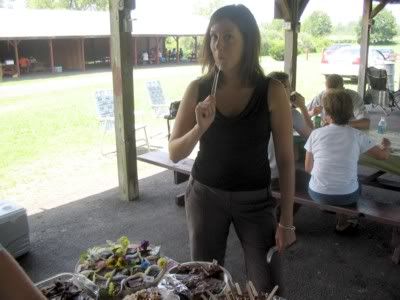 Really
pumped.
And that was my first weekend in town. The rest of the next week was spent with more unpacking, less pants-less-ness, and things like this: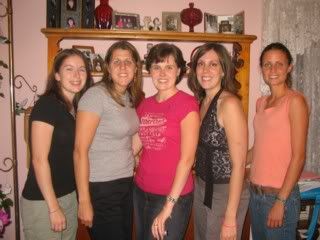 A Pink Torpedo dinner party at Steph's, where we did the necessary In Front of the Hutch photo. I think it looks sort of like Anne really doesn't want to be touching me.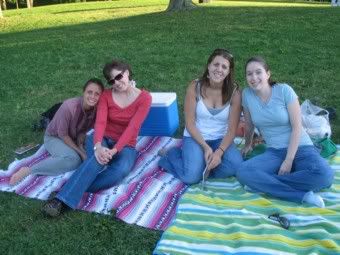 We also went to Shakespeare in the Park, where the actors put on
Twelfth Night
. We drank wine and ate some of the world's finest cuisine...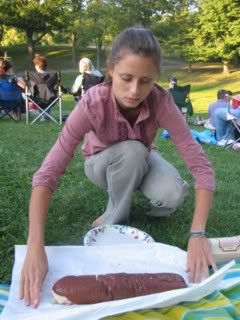 ... really big sandwiches.
It's been a good welcoming home. And the reasons to put pants on in the morning are starting to stack up on each other, but those are stories for the next time.