As soon as I got my tickets for the World's Largest Disco I called my mother with a very important question. I wanted to see if she still had a pile of clothes leftover from the 70's—something she'd squirreled away, kept out of some strange love or obsession.
"Are you kidding me?" my mother said. "Gross. Why would I have any clothes left over from the 70's?"
Then I asked about my grandmother's three closets worth of clothes—the ones my mother had to comb through after her death. Surely there had to be something left from the 70's, something my grandmother found too precious or sweet or nice to get rid of. After all, my grandmother was The All Time Greatest Saver of Trivial and Strange Things, a skill she passed down to my mother, a skill that then got plugged into my DNA, a skill that explains why I still have the posterboard from a book report presentation Amy and I did in sixth grade.
But my mother had already donated anything that could've been useful to me. She'd taken bags and bags of my grandmother's old clothes to the Salvation Army. I was on my own with the outfit, but I figured my mother could still be some sort of help.
"What would you have worn to a disco?" I asked. "You know, back then? What kind of outfit would've been your first choice?"
That's when my mother rolled her eyes. "Jessica," she said, "I didn't disco. Disco was
lame
."
I beg to differ.
The five of us girls—my best girls Amy, Becky, and Steph, and Steph's college roommate Michelle—rented a hotel room for the night and arrived early so we could drink, eat pizza from Buffalo's best pizzeria, and get ready at our leisure: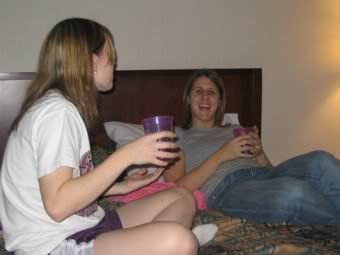 That's Amy and Becky pre-getting ready. Shortly after this picture was taken there was a flurry of curling irons, aerosol hairspray, and blue eye shadow. We came out looking a little like so: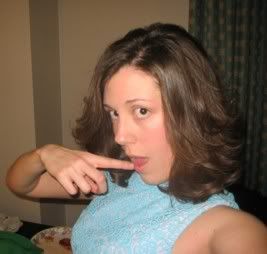 This is me and my naughty 70's girl pose. Not only am I channeling Jackie from That 70's Show, but I'm also channeling
Farrah
.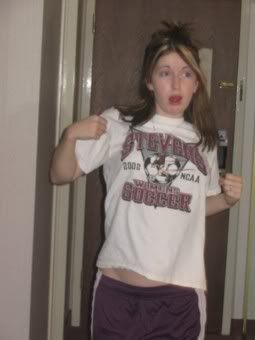 In the middle of doing her own version of 70's hair, Becky had to break it down for us.

A few minutes later, she came out looking like that. So
Mary Tyler Moore
!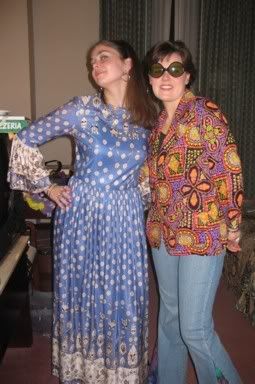 And here's Michelle and Steph, who look so, so cool and aloof.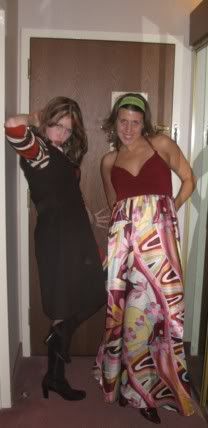 Becky and Amy did a little pre-disco posing.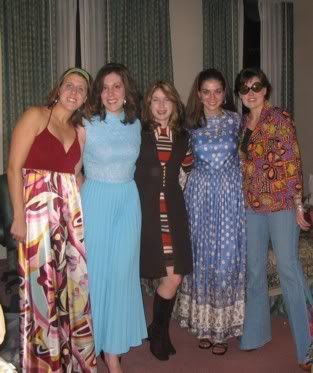 Here's the whole group: Amy, me, Becky, Michelle, and Steph. I've come to this conclusion about high-waisted pleated pants: they aren't all that slimming.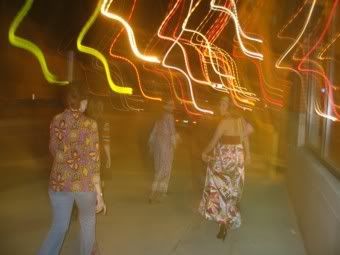 The disco was held in the convention center, which was a quick walk down the street from our hotel. This was the same hotel that the Jacksonville Jaguars were staying in since they're in town to play the Bills today. We saw many—and one especially cute one—in the lobby.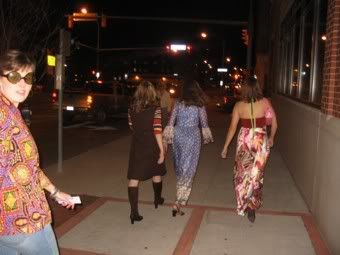 We looked as good going as we did coming.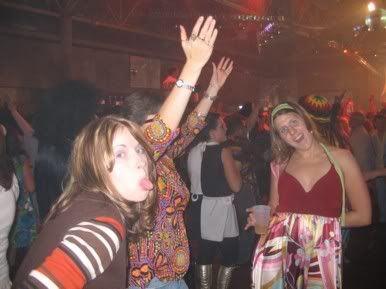 Once we got inside we drank wine from a box, saw some of the best costumes in the entire universe, and stumbled into pimps and sluts and go-go honeys and drunk 70's prom queens and guys who looked like they could've been the groomsmen at my father's wedding—frilly tuxedo shirts and all.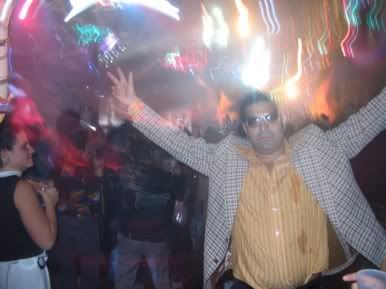 I don't know who this guy is, but he gave me a high five. He also spilled quite a bit of his drink on himself.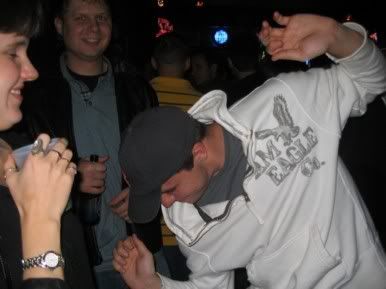 After the disco ended, we ran back to the hotel for a quick change so we could continue drinking and dancing downtown. Hot Rob graced us with some of his best white-boy moves.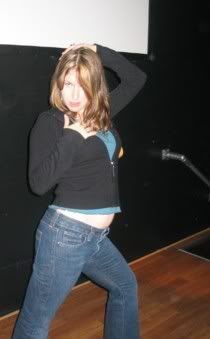 Becky showed us her stuff, too.
So, really, I can't wait to call my mother and tell her how wrong she was and that discos are many things—including an excuse for every woman in Buffalo to put on dresses that barely cover the crests of their butts—but they are never, ever, ever
lame
.