On the phone last night Katy asked me why I was defiling our sixteenth president. She asked me this because it's what I had spent part of my week doing. Sort of. When I arrived at Amy and Becky's apartment on Friday night, ready for all sorts of birthday celebration goodness, I saw there was a bust of Abe Lincoln stuffed into a box by the front door.
He was pale. He was hand-painted. His eyebrows were thick and lush.
I asked the girls why on earth there was a homemade bust of Abe Lincoln just hanging out in their living room. Turns out that Amy's mother had unearthed it from some stash in their attic and thought that Amy might be able to get some use out of it. After all, she's teaching social studies, and what better to teach it with than a mildly creepy bust of Honest Abe?
Now, I think it's important we point something out. I do strange things. Consistently. And what I was about to do with the bust of Abe Lincoln I had done before. Many, many times. I've done it with a poster of Britney Spears, with
Kogepan
, even with a MS Paint drawing of Ryan Havely.
I've taken pictures with them. Strange, quirky, sometimes naughty pictures. And when I looked down at Abe and when Abe looked up at me--well, I knew what we had to do. Plus there were tippy glasses full of Appletinis, so it just seemed right.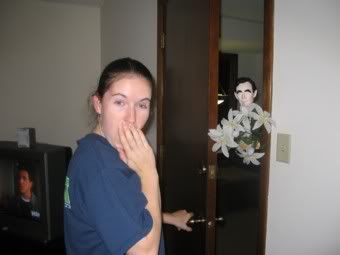 Look! It's a surprise visitor! It's Abe Lincoln! And, why, look at that--he's brought Becky a bouquet of flowers to congratulate her on her impending wedding! So thoughtful, Abe!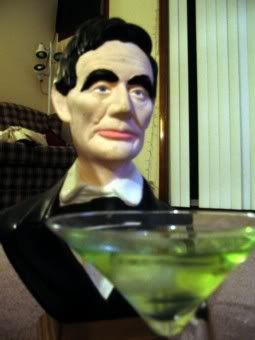 Shortly after his arrival, Abe got into the Appletinis. There's nothing our sixteenth president likes more than a fine Appletini. After he had a few, he sang the national anthem and peed off the balcony.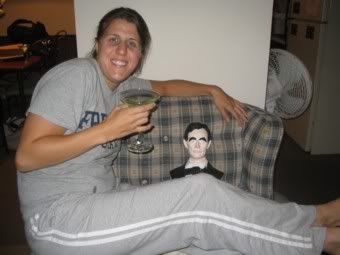 Amy snuggled close and sat on Abe's lap--err, the place where Abe should've had a lap if he hadn't been made into a creepy bust.
Here's a little known fact: Abe Lincoln pukes from his forehead. You heard it here first.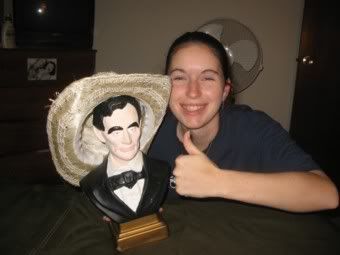 After he puked, Abe rallied. He said, "Bring on the tequila!"
Abe showed us his fine stalker moves. Creepy pale floating head!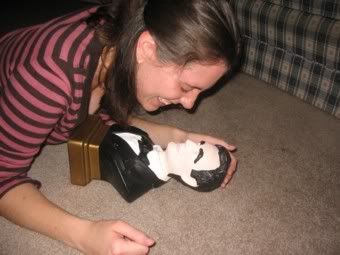 As the night drew to a close, Abe got a little fresh. And when I was trying to take the pictures that proved he was being a fresh president, I couldn't stop laughing.
He showed us a fine night, that Abraham Lincoln. And to continue the fine weekend, the next day I got to go to a birthday party thrown by mother. She made one of my favorite meals: garlicky pork roast, scalloped potatoes, corn. Then she brought out the giraffe cake.
There he is with his licorice tree and the grassy hills on which he roams. I ate his head. It was delicious.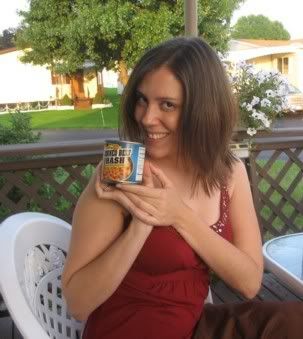 My brother got me corned beef hash for my birthday. I was super excited by this. I
love
corned beef hash. He knows me so well. I'm surprised he was able to get out bed after hearing the news about Hooters closing, but I was pleased he was able to get some shopping in for his dear sister's birthday.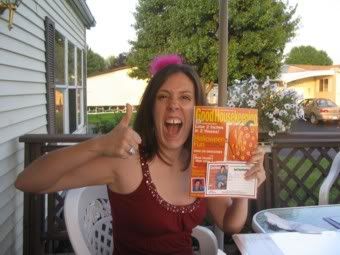 Another exciting moment that proves how much of a nerd I am? I got a subscription to Good Housekeeping and I was ecstatic.
Happy, happy birthday to me!