I just got off the phone with
PG
. We talked for over two hours. We exchanged gossip and MFA news. We talked about my upcoming birthday. We talked about boys. That's when New Boy came home. PG was out on her porch and could see him walking toward his house. "Should I yell to him?" she asked.
I said sure, she should definitely yell to him. I thought it would be nice to hear him yell back, to say hey and how are you?
"New Booooy!" PG sang out. "New Boooy, do you have, like, thirty seconds?"
New Boy, it turns out, was going in to do some homework that he'd only recently remembered he had. Also, he had a friend with him. This was probably New Boy's way of saying, Nope, I definitely don't have thirty seconds.
But PG didn't take that for an answer. Instead, she sprinted over to his yard while I was saying things like, "No, PG. Please don't. This is JUST LIKE THE TIME YOU INTRODUCED US."
But then all of a sudden she was thrusting her cell phone into New Boy's hand and he was saying, "Hello?" in a tone that made it clear he wasn't quite certain who was going to be on the other line.
So New Boy and I got to talk for three minutes. He talked about school, about his senior project, about cars, about his weekend. And I was thinking there wasn't any other place I'd rather be right at that moment. I wanted to be in that backyard with them. I would've suggested drinking something. I would've suggested a fire, some S'Mores. And it would've been a fine Sunday night.
And even though I'm wishing I could've been there with them, it's all okay. I had a fine week. There was much to do.
There was, for instance, pie baking: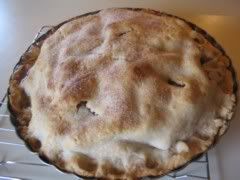 And celebrating: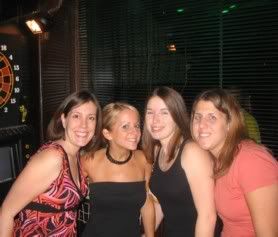 The celebrating was for two of the girls pictured here. The first would be the tannest one of the bunch, our dear friend Missy, who just completed her first week as a teacher of ninth grade English at the same high school we all graduated from. The second would be Amy, who's on the right, and who just finished her own first week as a teacher of sixth, seventh, and eighth grade language arts and social study students.
There was much comparing to do, much gossiping about our old teachers, much gossiping about people I haven't seen or heard about in years. It just so happens that Missy works with the teacher I love and cherish above all other teachers. He is the first person I really let read my writing, and he makes an appearance in the introduction to my thesis. I can't even begin to explain how jealous I am that she gets to see him on a daily basis.
Later that night I got a little unreasonable. It's sort of not my fault. My mother may or may not had one of the worst, most evil days of her life, and I may or may not have sat down and drunk almost an entire Cosmopolitan in a Box with her until she felt human again. And this was before we went to a Chinese Auction/Benefit for an area fire hall, where my mother's boyfriend brought us beer while we stood listening to a band play covers of songs from the Eagles and CCR.
While at the benefit, I saw the following two groups:
1.
Women in their 50s wearing gut-baring shirts they must've bought at Forever 21. They shimmied and rubbed up against each other. They preened for firemen with black teeth who stood around wearing matching yellow shirts.
2.
Then there were the girls who clearly graduated high school in the early to mid 90s. They were still wearing the same pullover sweatshirts that were popular back then. The type with snowflake-ish designs in a strip across the chest. Their hair was slicked back and they wore tiny gold hoops. They leaned into their boyfriends' shoulders, pressed close to their boyfriends' gold chains, and laughed and laughed and laughed at the women in their 50s who were wearing the too-small shirts. They were unaware that someday that will be their fate. That they too will be dancing for firemen with black teeth because their boyfriends will have run off with girlfriends from the old neighborhood--girls that the boyfriends' mothers knew and referred to as "wild."
And after the fire hall benefit came the bar to celebrate the girls' successful first week as real, honest-to-goodness teachers. After all that extended casual drinking, I realized my voice was getting loud. Much louder than was necessary. And I was starting to bobble. And talk about strange things. And by that point I'd also developed the nagging urge to eat a taco.
So, at two o'clock in the morning, Becky took me to Mighty Taco. I love Becky.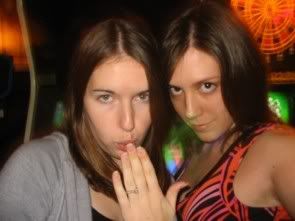 The next morning we all went to Hot Rob's rugby game. I was particularly excited to go to Hot Rob's rugby game because it gave me a chance to actively participate in one of the things I love most, which is watching men play sport.
Rugby, I found out, is a strange game. It's part soccer, part football, and, I think, part ballet and alcoholism. I found it strangely erotic. The boys would gather in lumpy huddles, put their heads between each others butts and legs, then they would grunt and groan and growl until the ball came out one end or the other. There was kicking where the goal was to get the ball out of bounds. Once Hot Rob even managed to lodge it in a tree, and a spectator from the other side had to climb up into the tree to get it out. Sometimes the boys even lifted other boys onto their shoulders so they could try to catch the ball. Why they can't just try to catch the ball on their own terms is beyond me, but whatever. I guess rugby is part competitive cheerleading, too.
You know what those boys get an A+ for? Their striped shirts. They're almost as good as
soccer socks
.
So I guess what I'm trying to tell is this: it was a good week. It was also a good weekend. And I love any excuse to mix pie, Cosmopolitans in a Box, Chinese auctions, old friends, and cute boys (some who look suspiciously like New Boy himself) tossing around a ball while wearing striped outfits. A fine, fine time indeed.